Translator
english - serbian, serbian - english translator and dictionary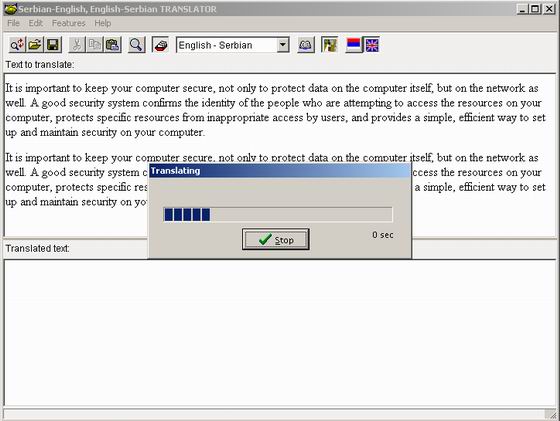 Translator is a computer translator that allows translation of English text in Serbian or Serbian to English text. Has a rich base of Serbian or English words, so that is adapted for interpreting the text, help, internet or scanned documents from many areas. Translator translates the text by analyzing the particular sentence by sentence of a letter to interpukcijskog characters. When it uses certain rules so that software built with great accuracy can be to translate the whole sentence or phrase.

Top window shows the loaded or typed text for translation, in the bottom window displays the translated text. The translated text visually (different colors) are indicated: fully translated the word, sentence or phrase, the word with more alternative translation, approximately translated word or neprevedena word. This enabled very easy identification of quality translation. Translated text upotpunosti follow the appearance and passage učitanog text that translates. If there is a need, translated text can be quickly and easily corrected by clicking on the word with more alternative translations which will automatically switch to the word that is selected In the drop-down menu.

If the translated text displayed neprevedena word, then you can activate the option to text translation with approximate word or its translation can be very easy to add the existing base by clicking on the Dictionary.

Enables unlimited add new phrases or words. Complete translated text can be saved in the file directly from Translatora or copy and paste via the switch in the desired file. Command Translator can be displayed in English or English, so that it effectively vema users can use both spoken language.

Program the text allows to load text (from the disk or clipboard) in a special editor, from which you program translates the text, for each word shows all translations, so that you can in a very simple way, by selecting the appropriate translation, (just click the mouse on the desired translation of the word, and word print in the editor below), you receive the translated sentence. This option can work automatically, so when you select the paragraph (from some external application) and click on the Copy program appears with the included text and translation of text begins.