English
Serbian
Other products:




Practice management software:

Common features:


Dental clinic software
practice management software. Complete billing - management solution for your dental clinic.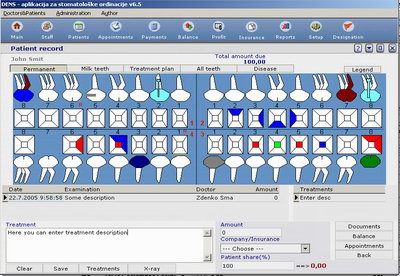 Main features in Dental clinic management software:
• Detail dentists database.

• Detail patients database.

• Profit report for specific time period (summary or by dentists).

NETWORK SUPPORT. Now you can use more than one computer to work with this practice management software.
Sever can be locked /unlocked with administrator password.

• Export database results in:
- RTF file format
- XML file format
- HTML file format
- Excel file format
and later change/print that file.
• Treatment plan for patients
• Add view/add treatments for jow or all teath

• Add scanned patient files/XRAY pictures etc.
• X-ray pictures - supported picture formats: bmp, jpg, gif, ico, emf, wmf.

• Zoom x-ray picture, also you can export x-ray picture from Dental clinic software.

• View for milk teath.

• Company/insurance database

• Designation database (dentist, hygienists, nurses,...) so you can categorize your employees.

• Print reports or medical billing :
- Bill submit to Health Fund Authority (Company / Insurance / Other)
- Bill submit to particular patient
- Appointments for selected period
- Profit for selected period
- Company insurance list

• Patients balances support.

• Schedule appointments quickly.

• Do the patient examinations easily, you can view treatments history for teeth (date/time of work, dentist, billing amount).

• You can create treatments list, and use it later on patients examination form.

• Pay - roll records for all employees.

• Quickly create database backup (Just one click to create backup, or restore already archived data).

• Server database is protected from unauthorized modifications

• Multilanguage support is available through integrated editor. You can translate Dental software on any language you wish:
Simply change desired word, phrase or sentence and press 'Save' button.

• Check out earnings and get information about charged items!

• Dental clinic management software provides full billing and income control and supports different password protected employee accounts!

• Server database is protected from unauthorized modifications!

• Process payments quickly and efficiently!

• Unique design with very functional user interface!

• Improve your business with various reports and statistics!

and many more ...