English
Serbian
Other products:




Computer shop software:

Common features:


Computer shop software
complete management solution for control billing process in your stores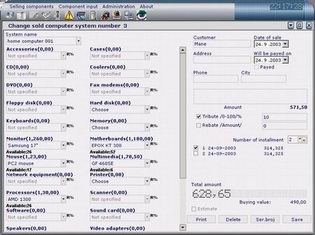 Computer shop software - is a multilanguage software for store billing management. Sell hardware systems components and accessories (keep track of sold configurations, create system configuration, sell accessories and computer components, supplying companies administration, and many more...)

Don't be fooled into paying to much or buying a program in a box.
Computer shop software is a windows based billing software designed for uses in computer stores (also you can use it in mobile phone stores).

Download and try before you buy, fully functional time limited demo software.
Main features in Computer shop software:
• Bar code support.

• NETWORK SUPPORT. You can use more than one computer to work with Computer shop software.

• Support for VAT tax system and GST/PST tax system. Also you can

• make rebates on system configuration
• make rebates on group of components
• make system configuration with rebates
• make tribute on system configuration

• Export data filters /employees, payments, companies, sold items, components, .../ :
- XLS /Excel/ file format
- RTF file format
- XML file format
- HTML file format
and later change/print that files.

• Support for left to right writings (Arabic, Hebrew ...)

• Create System configuration and use it later for selling purposes!

• Multilanguage support is available through integrated editor!

• Quickly create database backup!

• Total stuff amount in storage.

• Debts/Demand customer management.

• Customer database - Now you can save customer data and use it later

• Enter and print (optionaly) component serial numbers when you selling systems!

• Customize bills that you print!

• Create estimates and latter convert it into bills!

• Reports to make comparisons between months (total sum, or sum by employees)!

• See profit of a sold computer system during bill creating!

• Sell computer system by installments!

• Manufacturers administration.

• Print bills with currency sign.

• See number of available components (for selected component in group) when you selling system configuration!

• Different kind of reports.

• Pay - roll administration for your employees!

• Keep track of you suppliers!

• Specify group categories and customize this software to your business!

• Check out earnings and get information about charged items!

• Each sold system is registered in database with date of sale and notification if customer has paid!

• Computer store management software provides full billing and income control and supports different password protected employee accounts!

• Server database is protected from unauthorized modifications!

• Process payments quickly and efficiently!

• Unique design with very functional user interface!

• Improve your store business with various reports and statistics!

and many more ...