English
Serbian
Other products:




Cafe management software:

Common features:


Cafe management software
complete management solution for control billing process in your cafes and restaurants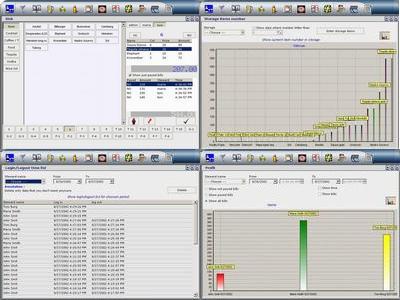 Cafe management software - Complete management solution for cafes and cafeterias. Sell drinks and food on desired number of tables. View reports and graphs of sold items/earnings by stewards for time period, pay-list for you employees, account for stewards and account for administrators, keep track of sold items by stewards, and many more...
• Don't be fooled into paying to much or buying a program in a box.

Cafe Management Software is a windows based billing software designed for cafes, cafeterias and restaurants.

• Download and try before you buy, fully functional time limited demo software. • Software is fiscalized to work with fiscal printer PF500.
Main features in Cafe management software:
• Bar code support.

• NETWORK SUPPORT. Now you can use more than one computer to work with Cafe management software.
There is a server software that can track all employees work. On the server sofware screen you can view time and description of employees work for any connected computer with cafe software.
Later you can save log file on the hard disk.
Sever can be locked /unlocked with administrator password.

• Now you can export database data /employees, payments, reports, .../ in:
- RTF file format
- XML file format
- HTML file format
- XLS /Excel/ file format
and later change/print that files.

• Profit report for specific time period (numbers and graph) !

• Create optimal menu as you wish (you can create drink/food categories)!

• Create optimal menu items (drinks & food) !

• Add optimal number of tables !

• You can design your own billing template!

• Control steward work (check purchase every day, storage items number, ...) !

• Control items number in your storage (numbers and graph)!

• View entered items number (and amount) in your storage for specific time period!

• View list of sold items for specific time period by steward or summary for all stewards!

• Quickly create database backup!

• Multilanguage support is available through integrated editor.
You can translate this software.

• Cafe supports different password protected steward accounts and one administrator acount

• Different kind of reports.

• Pay - roll administration for your employees!

• Keep track of you suppliers!

• Specify group categories and customize this software to your business!

• Check out earnings and get information about charged items!

• Each sold system is registered in database with date of sale and notification if customer has paid!

• Cafe management software provides full billing and income control and supports different password protected employee accounts!

• Server database is protected from unauthorized modifications!

• Process payments quickly and efficiently!

• Unique design with very functional user interface!

• Improve your store business with various reports and statistics!

and many more ...