English
Serbian
Other products:




Computer shop software:

Common features:


Computer shop software
view sold computer systems and accessories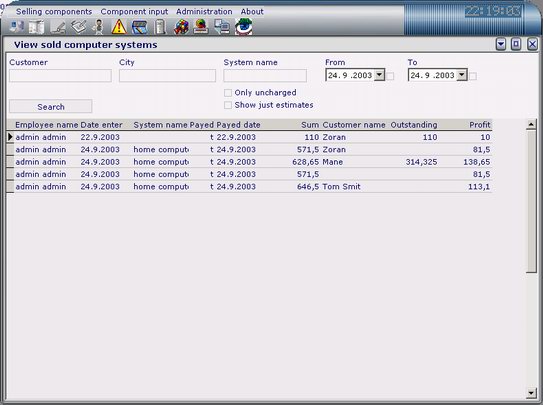 View sold computer systems is used to quickly find bill for sold configuration, or existing estimate.
Searching method is based on any of the given criteria:
• Customer name
• Customer city
• Computer system name

• Additionally, you can specify date period in which search will be performed.

• 'From' and 'to' date option can be enabled by pressing the checkboxes near it.

• If you check 'uncharged' checkbox, search will be performed only on outstanding bills.

• When you press 'Search' button, the list below will show all systems matching your search criteria.

• You can see your profit from sold computer system.

• To view complete information on specified system from list, just click on system in list, and sell computer system form will open.

• If you used installments for selling computer system, you can see outstanding sum.

• You can see and your profit from sold computer system.

• There is another report, where you can see all sold components with/without bill IDs and date when component is sold.