English
Serbian
Other products:




Computer shop software:

Common features:


Computer shop software
employee administration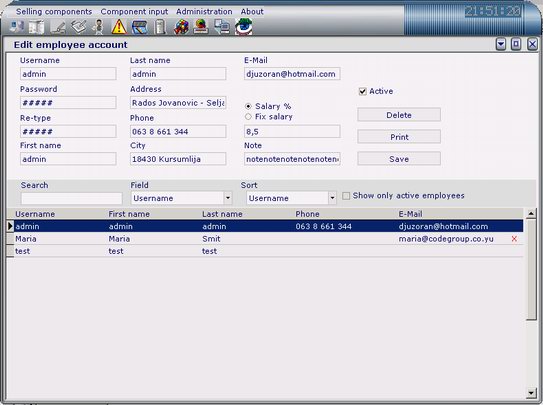 Add/Change employee data.
Administrator has privilege to set and modify employees.

When software starts, password and username are needed to login.

Only employee with proper name and password will be granted to work in software.

You can set new employee account easy:
1. Type username
2. Type password, and retype it
3. Type translation in Edit field
4. Specify first and last name
5. Type all other details of the employee
6. You may enter 2 types of salary :
- Fix salary (Enter salary amount)
- Percentage salary (0 - 100%)
7. When you finish, press 'Save' button

• From this moment employee will be able to use this software.

• To change employee data just click on employee from list, change data and press 'Save' button.

• You can set employee status /active ot not active/. Only active employee can login into program.

• Symbol X from picture - means that employee status is not active.